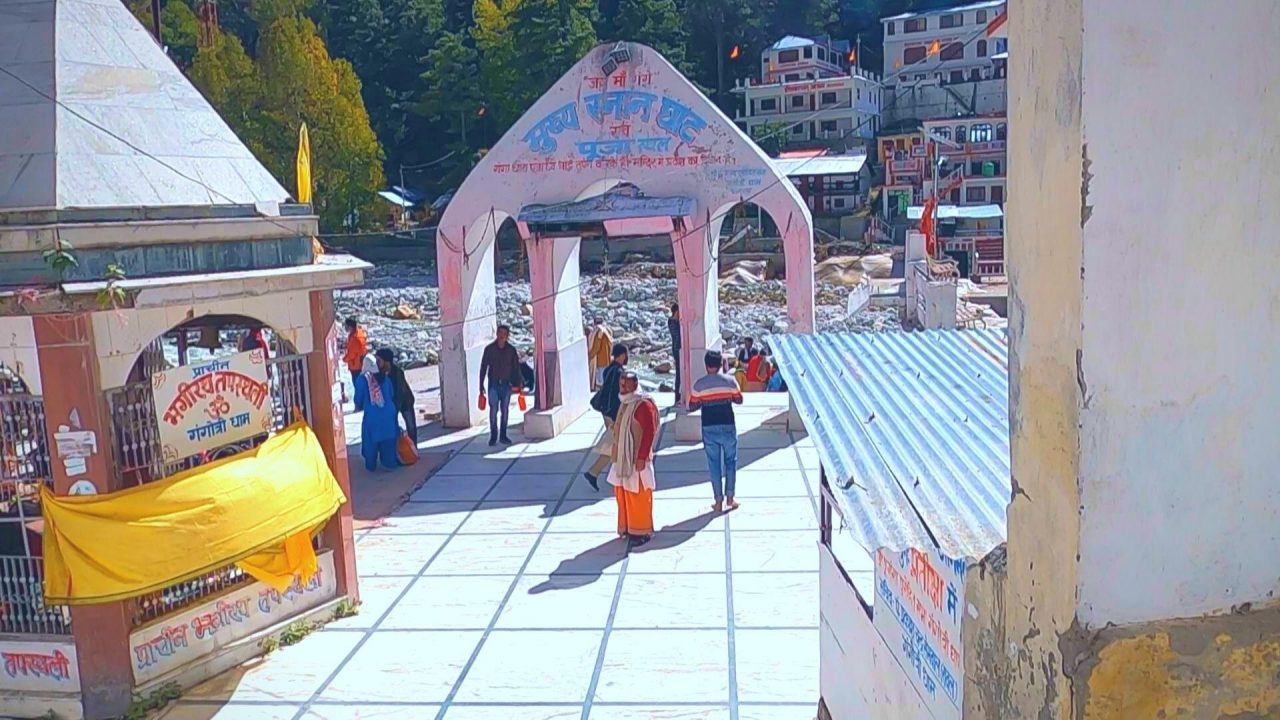 The temple complex houses a main shrine of Goddess Ganga and Bhagirath Shila, It is said that, the king Bhagiratha meditated here to please the Lord Shiva. The origin of river Ganga is located in Gangotri Glacier "Gaumukh" which is at a distance of 19 km from Gangotri. The "Bhagirathi River" is the main stream of the river Ganga, which originates from Gaumukh and joins the Alaknanda River at Devprayag via Gangotri. The river Ganga mainly starts at the confluence of Alaknanda and Bhagirathi at Devprayag and further joins the sea at Rishikesh, Haridwar and passes through Uttar Pradesh, Bihar and West Bengal.
According to mythology, the name "Bhagirathi" was named because of "Bhagirath". Bhagirath was a king of ancient India. He was a descendant of the great king Sagar of the Surya dynasty. He was also one of the ancestors of Lord Rama. On the advice of his guru Trishla, Bhagirath went to the Himalayas to do penance in order to free his ancestors from the curse of sage Kapila. He did penance for years to please Goddess Ganga. After Pleased with Bhagirath's penance, Goddess Ganga told Bhagirath that if she descends from heaven to earth, it would be difficult to handle the power of her velocity, water will flood everywhere. So Goddess Ganga told Bhagirath to seek help from Lord Shiva. No one except him was able to control the force of his velocity. Then Bhagirath did severe penance for Lord Shiva and Lord Shiva granted him a boon, which eventually led to the descent of Goddess Ganga in the form of a river.
Pandav Cave, it is located at a distance of 1.5 km from Gangotri and it is believed that Pandavas did penance here on their way to Kailash. One has to trek to reach Pandav Cave.
Gomukh, also known as "Gomukhi", it is the end point of the Gangotri Glacier, from where the Bhagirathi river begins. Gaumukh is a sacred Hindu pilgrimage center located at an altitude of around 4,023 meters (13,200 ft) above the sea level and about 19 km from the Gangotri. It is also a popular destination for adventure – loving tourists.
Kedartal is a glacial lake (also known as Lord Shiva's lake) situated at a distance of about 18 km from Gangotri and at an altitude of about 4,750 meters (15,580 ft). It is one of the most beautiful lake of Uttarakhand. This place is definitely a perfect destination for adventure and nature lovers. The stream originating from Kedartal is called Kedarganga which is a tributary of Bhagirathi. Somewhere calm and somewhere raging, this river makes its way through big stones and rocks.
Nelong valley which is about 34 km from Gangotri and is situated at an altitude of about 11,000 ft. The environment of Nelong Valley is similar to Lahaul-Spiti and Leh-Ladakh. Before the Indo-China war in 1962 it was the main route of Indo-Tibetan trade, but after the war the valley was closed to civilians. It was opened for tourists in the year 2015, since then it has become a favorite destination of adventure lovers. Access to this valley is allowed only during the day.
"Tapovan" Traditionally in India, any place where one engages in penance or sadhana may be known as tapovan. Like, the western bank of the Rishikesh, which has been so much used by the saints that the whole area came to be known as Tapovan. The most famous tapovan in India is said to be the area above the Gangotri Glacier. During the favorable season many saints live in caves, huts etc at the foothills of Shivalinga peak at an altitude of about 4,463 m (14640 ft) and now it has also become a trekking destination. The trekking here usually starts from Gomukh. The "Tapovan Kshetra" is the base camp for many mountaineering expeditions including Shivlinga Peak, Bhagirathi Peak. Tapovan area is full of meadows, rivers and flowers, Tapovan also has a place called Nandanvan, and Nandanvan is also trekked by trekkers and pilgrims.