Yamunotri Temple is one of the Chota Char Dham of India and is known for the origin of the Yamuna River. It is located at an altitude of about 3,291 meters (10,797 ft) in the Barkot town of Uttarkashi district in the Garhwal region of the Indian state, Uttarakhand. Due to extreme weather conditions, the temple opens only between April to October – November (Akshaya Tritiya to Bhai Dooj) every year.
Yamuna Ji is the daughter of deity Sun and sister of Yama (Yamraj), she was incarnated by the penance of a sage named Jaimuni (father of Shri Parashuram Ji), hence she is also known as Jamnotri, and Kalindi because of being in the Kalind mountain. Like Goddess Ganga, Goddess Yamuna is also given the status of a divine mother in Sanatan Dharma who provides an important contribution to the nurturing and development of Indian civilization.
Yamunotri temple complex houses the philosophical temple of Yamuna Ji, Divya Shila, Surya Kund, and the temple of Hanuman Ji. Surya Kund is the most vital pool, where water boils naturally. The water in Surya Kund boils so much that rice and potatoes can be boiled by tying in cloth. There is a Divine Shila ( Divvy Shila ) near Surya Kund which is the main place in the entire region. Apart from this, there is another kund where the water is lukewarm and people visit the temple after taking bath there.
The philosophical place of Yamuna Ji is 13 km from Hanuman Chatti and 6 km from Janki Chatti. The actual site of Yamuna Ji is 14 km ahead of the temple, which is known as Sapta Sarovar or Sapta Rishi Sarovar, from where Yamuna Ji originates which is situated at an altitude of about 4,421 m (14,505 ft).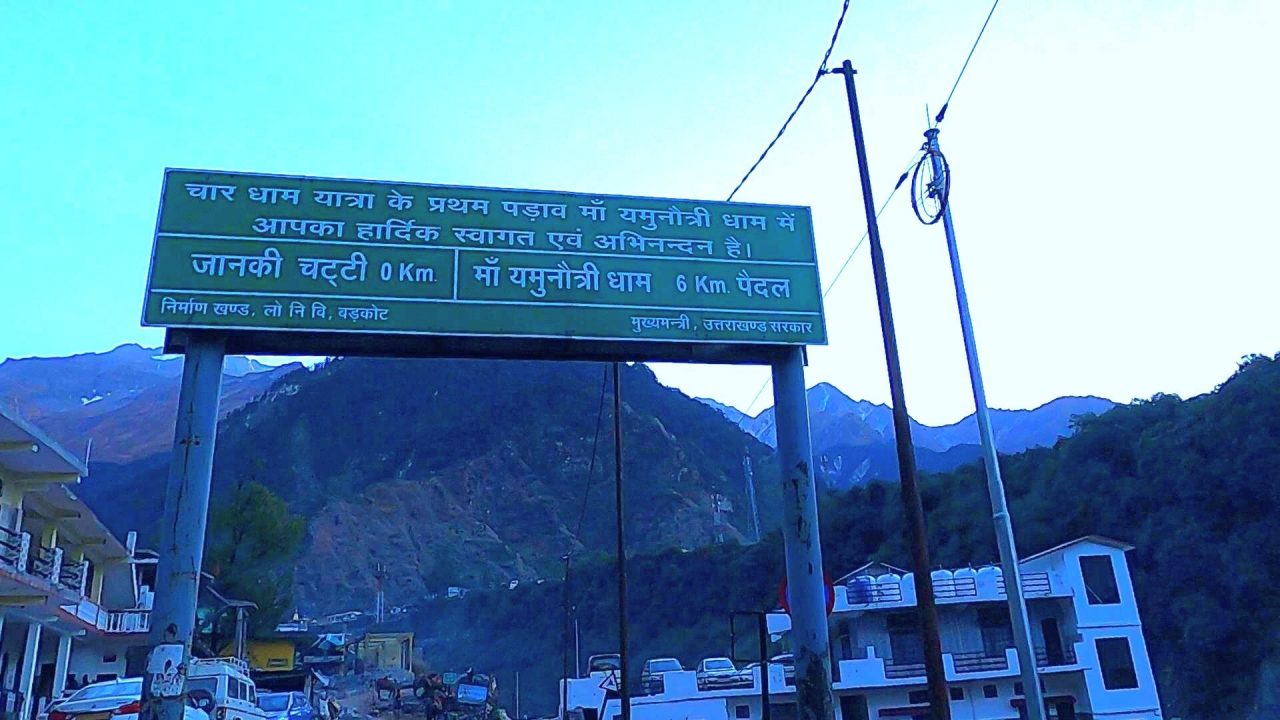 To reach Yamunotri Dham, one has to go through Barkot city in Uttarkashi district, then come to Hanuman Chatti and then to Janki Chatti. Janki Chatti can be reached either by 2 or 4 wheeler, beyond that by climbing or by hiring a horse and palanquin.
Janki Chatti is approx 430 km from Delhi Railway Station and about 225 km from Haridwar. The nearest railway station is Dehradun and Rishikesh and the nearest airport is Jolly Grant, Dehradun.
Kharsali, also known as Khushimath. The Shani Dev Temple in Kharsali Basti of Uttarkashi District is considered to be the oldest temple of Shani Dev. This temple is situated at an altitude of 7,000 ft. When the doors of the Yamunotri Temple were closed, the idol of the goddess is kept here, till the doors will be opened of the Yamunotri Temple.
My experience of Yamunotri Dham Yatra was very thrilling, divine and memorable. When I went to visit Yamunotri Dham on 24 October 2020. Then I had no idea of the way or how to go. I planned to visit Yamunotri and Gangotri after visiting the Badrinath Ji, it was not planned before.
After visiting Badrinath Ji, I went to Chamba via Srinagar because I saw a board there to go Yamunotri and Gangotri, I did not ask anyone on the way. Because of this, I had to ride for a long time, otherwise, there was a road going to Yamunotri Temple near the Srinagar, which was very short. The road through which I went was full of dust and soil, anyhow I reached Janki Chatti to visit Yamunotri Dham.
By the time I reached there, it was already dark. So first of all I booked the room and rested for the night after having dinner. I woke up around 6 am in the next day and asked for hot water to bathe with the hotel guy because the temperature was near 0 degrees celsius.
After taking a bath I left the hotel and drank tea first, then start my journey. The days I went, there was a landslide on the way a few days back, therefore another unpaved way was made by the locals. I reached Yamunotri Dham around 2 to 3 hours from Janki Chatti and first visited the temple, walked around for some time, and came back with the water of river Yamuna.